Go Back?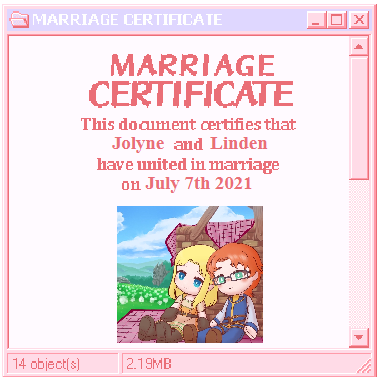 This page is dedicated to my wonderful girlfriend!!




Playlist


I love making playlists, so making one for my girlfriend was something I was quick to do! I wanted to add songs onto there that conveyed how I feel about her. The full playlist, as of 7/27/23 is an hour long with 20 songs. I know this may not seem very impressive- but I'm pretty picky with the songs I pick, and have only gotten moreso overtime. Only the best for the most wonderful butch in the world ♡! I didn't include all 20 songs, I just picked my favorites. I hope the music can convey my feelings well and reach the heart of everyone reading this so they know just how much I love Linden!
About
One of the things I knew I had to add to my site is a page about my beautiful girlfriend. She goes by Linden online but I call her my apple pie/apfelkuchen, cinnamon apple, darling, dear, love, cutie, pookie pie, or any other nickname that embarrasses her~
My girlfriend is so smart, cute, dedicated, funny, and my favorite person to be around. When it comes to helping me cope with my struggles, she's the person who's always there to listen to what I have to say. I don't think i'd be able to handle with a lot of the things I struggle with if it wasn't for her.
Linden is the best girlfriend I could've asked for, she's smart, an excellent artist, and when she loves someone, she makes sure to take care of them. To top it all off, she is the most attractive woman I know, the perfect butch to my femme ♡
How Did We Meet?
Linden and I met in middle school, sixth grade, where she tells me that I introduced myself to her in gym class by asking what her favorite "Five Nights at Freddy's" animatronic was (Even if I don't remember this specifically, I do remember what it was at the time- the marionette.) and just sort of... kept talking to her! I knew vaguely of her, mostly a few misconceptions and that she was friends with someone who would later be my friend named Nick... We were just kids, so it wasn't love at first sight or anything, but it didn't take too long for me to figure out I had a little bit of a crush on her... though she wouldn't come out as a lesbian for a long time. I dated around a bit, my feelings for her lingering between each relationship, yet I would urge myself to move on. Due to some personal circumstances, I ended up finding out her feelings for me in the middle of one of my relationships, making me unsure of what to do... I wasn't able to give her an answer at the time, but that girlfriend would end up ghosting me. I still had feelings for Linden, but just needed some time... and after a few months, ready to begin our relationship after years of pining and feelings, I would confess to her after a group hangout with mutual friends, and we got together on the night of July 7th, 2021! 7 used to be my least favorite number, but after this, my perspective totally changed.